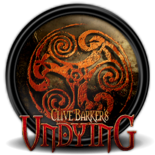 Clive Barker's Undying
is a horror themed first person shooter set in that was released in 2001 by Electronic Arts, and developed by DreamWorks Interactive. Horror author Clive Barker was consulted for the plot and voiced
Ambrose Covenant
. The game follows paranormal investigator
Patrick Galloway
as he attempts to unravel the mystery of the
Covenant Family
.
Undying begins in 1923 after WWI veteran Patrick Galloway receives a letter from an old friend of his, Jeremiah Covenant. In it is a request to go to the Covenant Manor and investigate some strange happenings there. Upon further investigation, he finds that Jeremiah's dead siblings have returned as spirits and are causing the unusual occurences. He embarks on a mission to attempt to stop the siblings which takes him to various locations across the Covenant Estate. As the story progresses, Galloway finds that the current generation of Covenants engaged in a ritual which they thought was a game in childhood. This lead to a curse being placed upon the family. The curse is the Undying King, which wishes to manifest itself on Earth. This is all helped by a pagan priest, Otto Keisinger. At the climax of the game, Galloway finds that Jeremiah has betrayed him, and is beheaded for his treachery.
Ad blocker interference detected!
Wikia is a free-to-use site that makes money from advertising. We have a modified experience for viewers using ad blockers

Wikia is not accessible if you've made further modifications. Remove the custom ad blocker rule(s) and the page will load as expected.