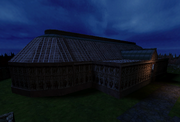 The Greenhouse is a minor location within the grounds of the Covenant Manor. It was primarily used by Bethany Covenant and she is believed to have conducted experiments within.
If Patrick enters the Greenhouse it is likely the first time he will fight the plant enemies.
Ad blocker interference detected!
Wikia is a free-to-use site that makes money from advertising. We have a modified experience for viewers using ad blockers

Wikia is not accessible if you've made further modifications. Remove the custom ad blocker rule(s) and the page will load as expected.