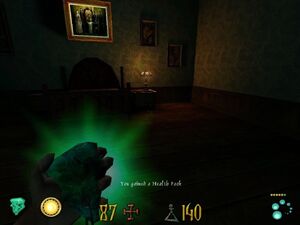 Jeremiah's Room is his primary living space. Located just off the Entrance Hall on second floor, the space consists of an attractive bedroom and ensuite bathroom. Patrick meets Jeremiah here and later scryes a conversation between him and his brother Aaron as ghosts.
Ad blocker interference detected!
Wikia is a free-to-use site that makes money from advertising. We have a modified experience for viewers using ad blockers

Wikia is not accessible if you've made further modifications. Remove the custom ad blocker rule(s) and the page will load as expected.